Bayern Munich reportedly sacked goalkeeping coach Toni Tapalovic – a close confidante of Manuel Neuer – because he was leaking chats among coaching staff back to the players.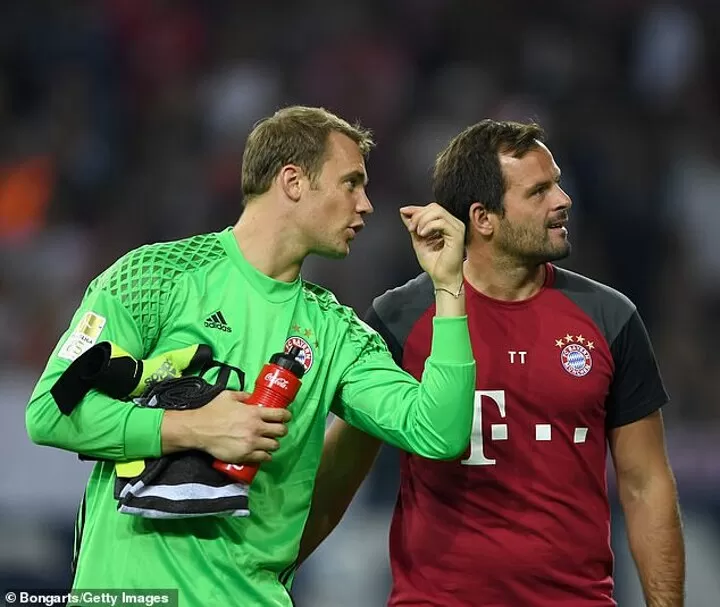 Tapolovic was axed 'with immediate effect' on Monday with the club citing 'differences in the way we work together', but a report from Germany has now revealed the tensions between himself and manager Julian Nagelsmann that led to his dismissal.
The 42-year-old – who was Neuer's best man at his wedding – has been with Bayern since 2011 and has been credited by many for shaping the goalkeeper into one of the best in the world, but his close relationship with the World Cup winner is said to have led to 'leaks' in the dressing room.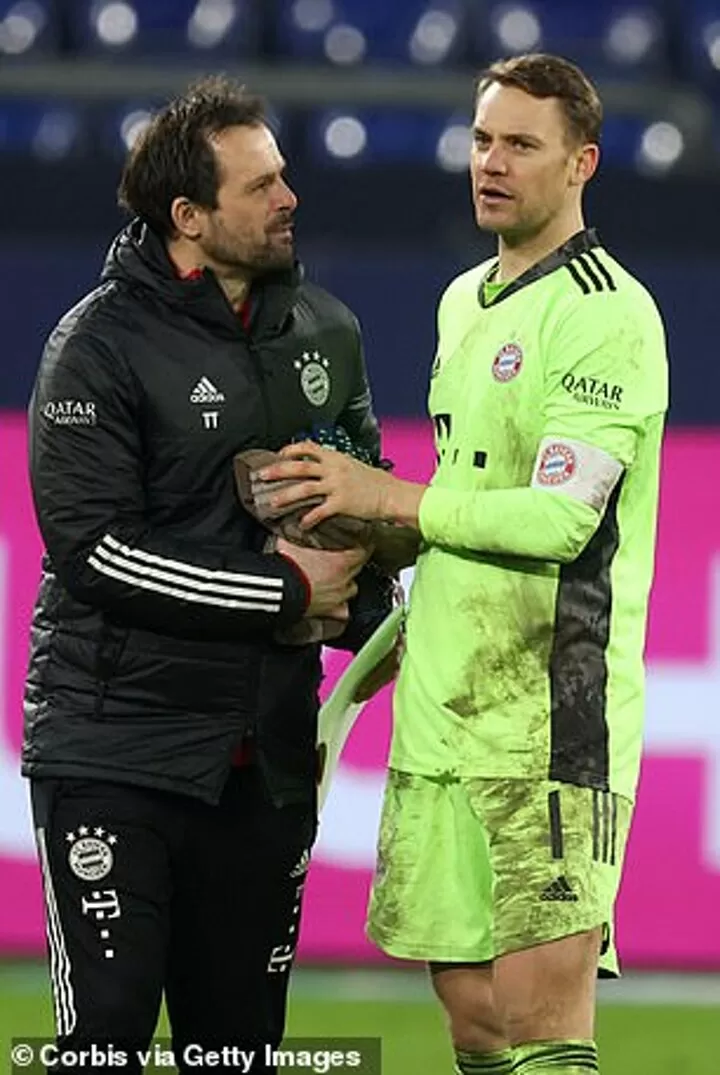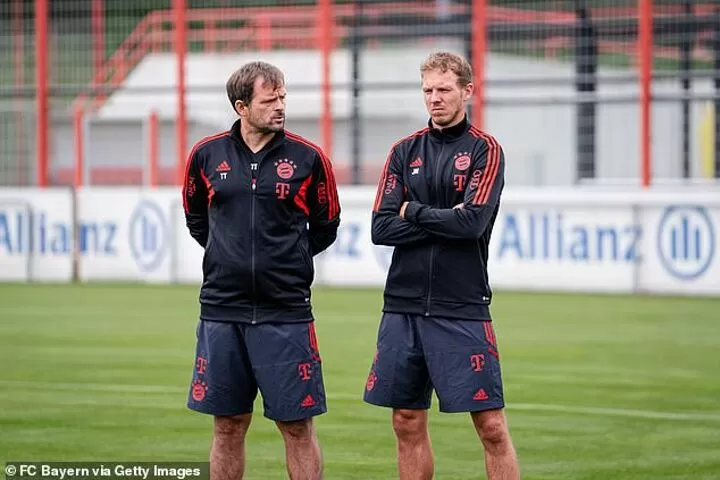 Nagelsmann started to grow frustrated with Tapalovic as early as last season after discovering that conversations between staff members were being relayed by the coach to Neuer – and then to the rest of the players – according to Bild.
There have been differences between Tapalovic and the club's hierarchy 'for a long time', the report goes on – and the club's statement on his sacking made no attempt to side-step the problems between the two parties.
'As our goalkeeping coach, Toni was involved in the successes of recent years. We would like to thank him for that,' Bayern director Hasan Salihamidzic said.
'Differences, particularly over the way we worked together, have now led to us going our separate ways. We wish Toni Tapalovic all the best for the future.'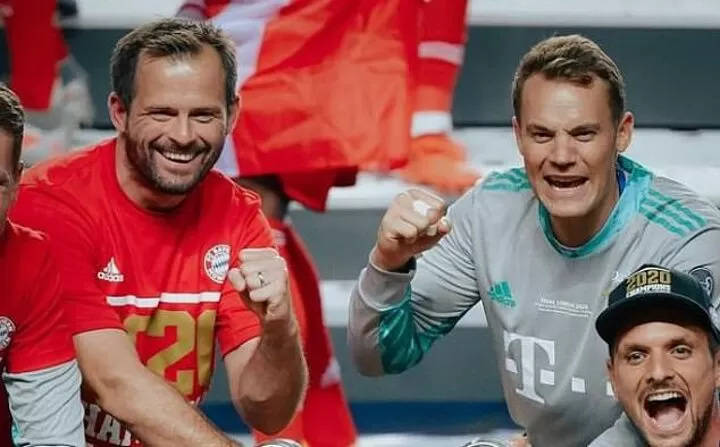 Neuer married wife Nina Weiss in 2017 – hobbling down the aisle in crutches after breaking his metatarsal against Real Madrid in the Champions League – with Tapalovic helping him prepare for the big day.
Neuer penned a heartfelt message to his close friend after his departure was confirmed this week, hailing him as 'an absolute pioneer of modern goalkeeping' and 'a great person' – saying he played a huge role in Bayern's recent success.
Tapalovic has been with the club during a trophy-laden spell that has seen them win ten Bundesliga titles, two Champions League trophies and five German Cups.
'Dear Toni, today is the end of an era at FC Bayern Munich. With you after 11.5 years, not only an absolute pioneer of the modern goalkeeping game, but above all a great person is leaving the club.
'Everyone, not only in Munich, knows that all these achievements would never have been possible without you! Last but not least, you shaped and lifted me and my goalkeeping game to a new level. I will miss you!'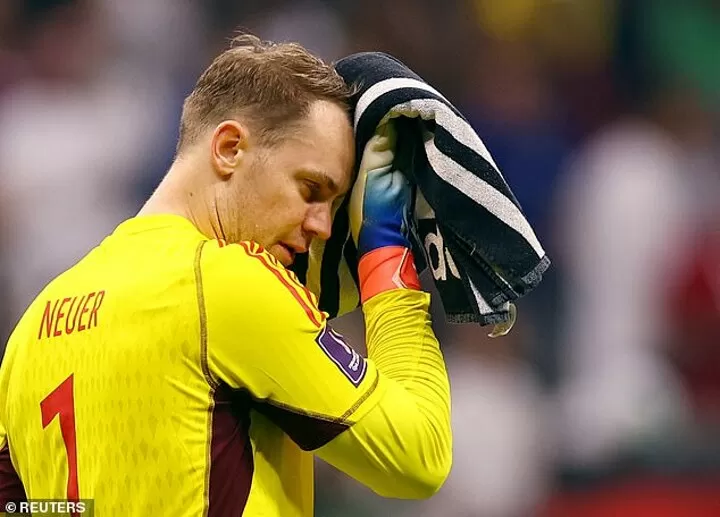 Neuer will miss the rest of the season after breaking his leg while skiing and has not played since Germany were dumped out of the 2022 World Cup following their 4-2 win over Costa Rica.
The 37-year-old has been Bayern's undisputed keeper for more than a decade but is now facing scrutiny over his position as he looks to recover from a severe injury and is not getting any younger – with the club said to be looking at his succession plan.
Club chief Oliver Kahn hinted that Neuer's place as the club's No 1 may not be solid forever – admitting they would have to think about 'the here and now'.
'We know Manuel, he will give everything to get back in top form. And a Manuel Neuer in top form is still absolutely world class.
'We hope that this rehabilitation period will be without complications. But football is a short-term business, we have to think about the here and now,' Kahn declared.