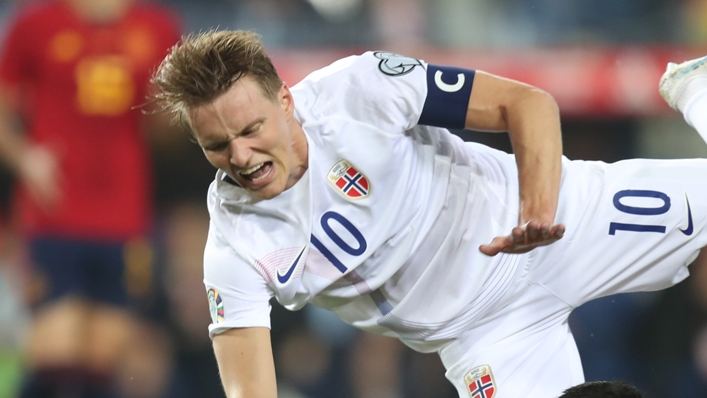 Martin Odegaard is "pretty sure" he should have won a penalty for Norway against Spain after a fierce challenge from Rodri.
The Norway captain was wiped out inside the area by the Spain midfielder in an incident that sparked debate regarding the ongoing battle for the Premier League title.
There would have undoubtedly been winces at Arsenal having seen the Manchester City man clatter into their skipper, with the two sides going toe-to-toe to finish top of the league this season.
Despite the heavy challenge, no foul was awarded and that left Odegaard confused, though he stopped short of questioning the officials due to concern he would be issued with sanctions.
"I'm pretty sure I should have had a penalty. He's coming with his studs right on my ankle. But I'm sure I'll get punished [if I say any more]," he told TV2.
"I don't bother saying anything else about the referee. It's better not to say anything."
While Odegaard held back in his assessment, Norway head coach Stale Solbakken did not hold back on an incident he felt could have changed the course of the game.
"It is a clear penalty. He finishes the shot and you can't [foul him after]," he said.
"If I knock someone down after the ball is gone, then it's a penalty. I get a little bored of this.
"What I see here now [on the replay] is exactly what I saw from the bench. There was a bit of arrogance going on. That's the way it is, but it's unbelievable."