The Gunners boss has spoken to the press ahead of his side's Premier League clash with Everton at the Emirates Stadium on Wednesday.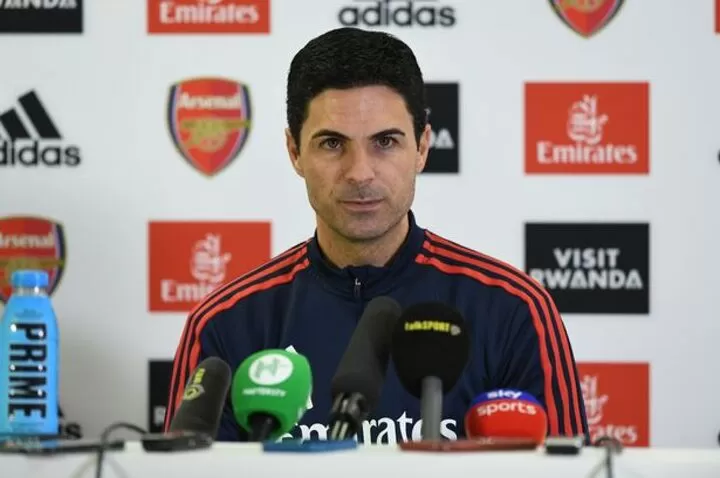 What's the latest team news and specifically on Thomas Partey?
"He hasn't obviously trained much, only had a session and he will train today. It's what it is, he was out for a couple of weeks and he needs to get the rhythm.
What was the confrontation between Saliba and Gabriel at the end, was there a problem?
"They are happy marriage. They love playing with each other but they are really demanding of each other and everything is fine."
Anything to add on the use of VAR at the game?
"No."
Is the game against Everton a case of revenge after losing there earlier in the year?
"It's a case of doing things better than we did when we played there a few weeks ago and earn the right to win the game. Hopefully tomorrow we'll play much better than we did that day."
Have the team looked back at the video of that game and what will you tell them?
"Like with any opponent, we show them what they do, what they're about what we expect to do to try and beat them. Nothing different.
Record against Sean Dyche is modest, what would you say about your meetings with him?
"That we have to improve."
Winning takes Arsenal to 60 points. That's some achievement isn't it?
"If we do it yes. But that means nothing because there's still another fourteen games to play and there's still a long run.
Is it becoming more difficult to know your best team?
"Well, we assess that situation every single day, the fact that we have options right now, we have some players coming in from injury to give us alternatives which is going to be crucial because players that can maintain the same level for ten months is just impossible.
"We need to change and we have to generate alternatives and be more unpredictable for our opponent as well and we have those options now.
Is it a bit easier to prepare for Everton when they have a new manager so you don't have to analyse as many game?
"No but obviously with Sean [Dyche] it's quite clear what he's done and where the success that they've had is coming from and tomorrow they will prepare the game in a similar game, I expect. With every manager it's the same, we have to look at certain matches, what they do to get the right tactics to beat them but as well the same mentality and expectation of what we demand in the game."
David Moyes has said he misses some of the traditions like having a drink with the other manager. Are you sad that these traditions no longer happen?
"I haven't had that opportunity because after I joined, two or three months later we had Covid and probably Covid was a catalyst of losing that tradition which is a shame because I think it was something special and generates certain bonds with the manager but sometimes we can talk about it between us and get it back."
After the dip in form, you've had two wins what has been done differently to get the form back?
"We talked about boxes, and we've been much more efficient in both boxes. I think we cut individual errors that cost us certain points in that period and obviously, the opponents play and the opponent deserves to get something out of the game.
"But certainly I think our level and the way we have played doesn't drop."
Do you think the opponents now fear Arsenal again after getting back into gear?
"I don't know we don't control what the opponent is feeling or how they prepare the games. What we have to do is win in front of our crowd and full tail, go to win the game and compete really well against this team."
You've talked up the crowd. They're really buying into what you want to do?
"They're going to be crucial, and tomorrow we expect to have the same support because with it we're going to be closer to winning that game for sure."
Under different pressure now, the All or Nothing documentary showed you being able to go home and relax, how important is that for you that you've got something to allow you to switch off?
"Well you can have difficulties in your job and challenges which we do especially when you lose, but when you're winning as well because the job is so demanding. But you cannot destroy your life because of that and your family, your friends, your loved ones, the people around you doesn't deserve to affect their lives in such a negative way because you lose a football match.
"So that balance I think in my case was critical but you need some help, from someone to put that picture in front of you because when you're in that position it's not easy to see it."
Graham Potter mentioned using you as an example of giving a manager time, do you empathise with that?
"Absolutely, we are colleagues and we all know the pressure, the demands and the uncertainty this industry has and as well because the fact the ball has to go into that net and there are sometimes many factors that prevent that which you cannot control. So of course you empathise because you suffer because you know how it is going through those moments.
His family have been targeted with death threats, did that happen to you at all?
"I'd prefer not to talk about it."
With Gabriel and Saliba, do you like your players to challenge each other?
"Yeah, I don't want robots, I want players with feeling, with passion that they demand each other, but at the end, they have that chemistry and those two certainly they have that chemistry on and off the field and I love that even when we're winning they want us to do better."
On Bukayo suffering the fouls, have you had a conversation where he's raised that to you?
"Yeah, we talk about every situation in the game, and every moment that has an impact on the team, or individually for him. He needs to cope with it."
You've said in the past when wingers receive the ball they need to come inside, is that one of the solutions to this problem?
"There are many solutions to different things."
Smith Rowe and Kiwior played for the under-21s yesterday, what did you make of their performances?
"Really good. Obviously, they needed some minutes and at the moment they haven't had much exposure for different situations. It was great to see them on the field because we're going to need them in the next couple of games."
With it being so competitive and players like Kieran Tierney not getting minutes, is there a pressure you could lose them in the summer if they don't get that game time?
"I don't know, I'm not thinking about it, I'm thinking about what's best for the team and obviously the players with the right to play minutes which they all deserve and we're going to try to do that in the next couple of games."